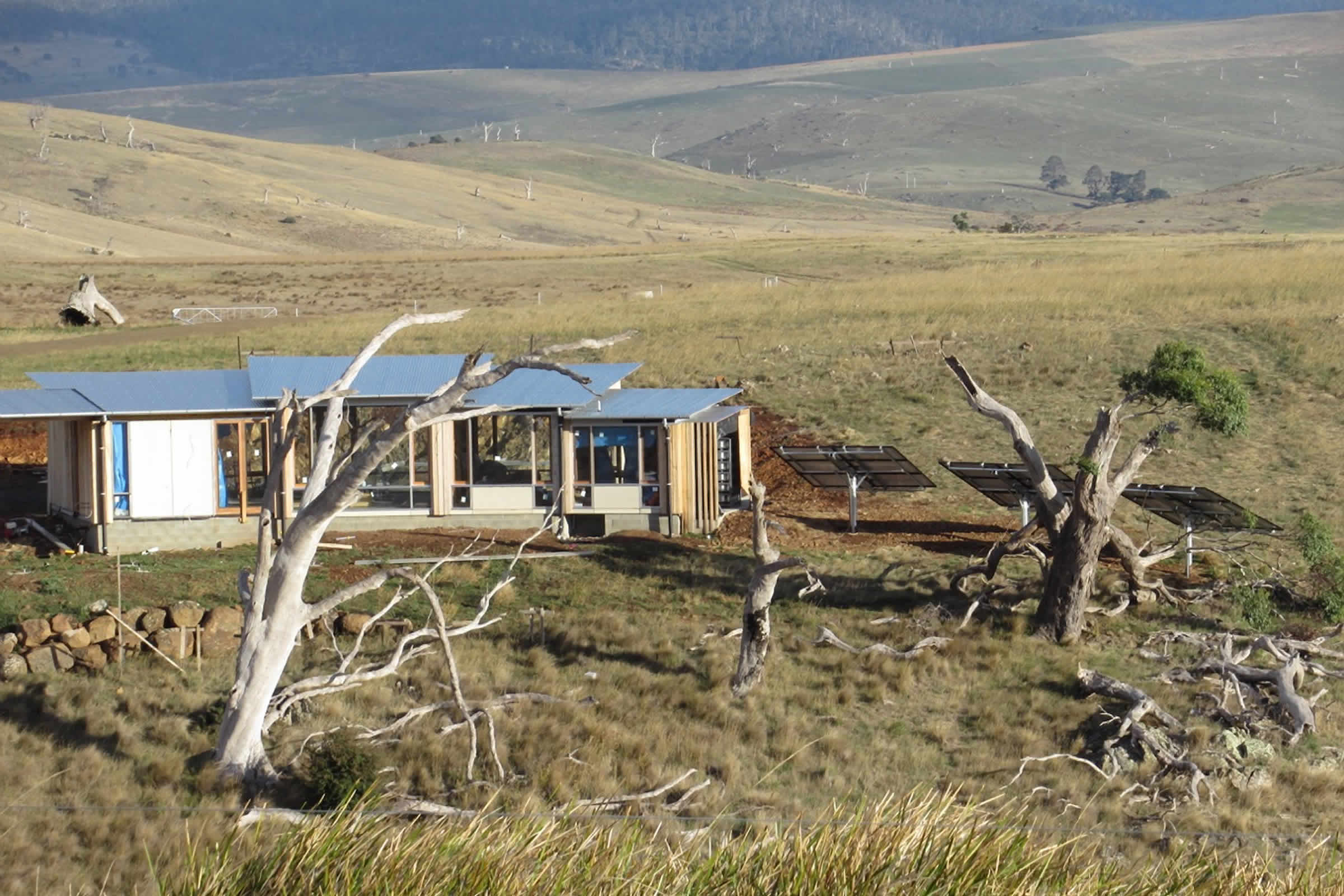 This is no conventional farm house. Perched on the edge of a gully, it overlooks near and far distant pastures where our client shepherds her sheep in traditional manner, to produce fine, naturally dyed knitting wools for world-wide export. Tasmania, we have learnt, has the most unusual and remarkably talented inhabitants. As architects we are privileged to meet and work with many, in this case, a scientist turned wool-grower, who farms sustainably without chemicals and who has a deep understanding of her land, its vegetation, the climate, her sheep and her working dogs.
The new house design reflects these values. Being remote in location it will be wholly off-grid, well insulated, and energy efficient. Photo voltaic cells will generate power, including for charging an electric farm vehicle. Water will be solar heated and gentle hydronic floor heating, combined with thermal mass, insulation, double glazing, natural ventilation and sun screens will ensure a constant and comfortable year round interior temperature. All rainwater will be harvested and stored for re-use.
Splayed roof sections create a building form like a curious winged creature recently alighted on the land. Its passive solar design is flexible in plan consisting of a series of inter-leading rooms that avoid wasteful circulation space. External and internal spatial arrangements meet the specific needs of the brief ranging from practical food preparation areas and the kennelling requirements of this working farm, to our client's very personal lifestyle values and choices. Flexible, homely and intimate living areas with contemporary fittings and a natural timber-lined interior will express her request for a design that creates a "high tech but rustic cabin-like atmosphere".
An unexpected delight for us as architects has been that the design process evolved according to the rhythm of our client's sheep farming commitments and availability, putting us in touch with seasonal changes in the light, the weather and the landscape of the Tasmanian Midlands. We look forward to this new home, so embedded in its context, emerging in full detail as construction by Overland Builders progresses, and to witnessing its evolution to become "of" the land and its owner.
Photo by Nan Bray