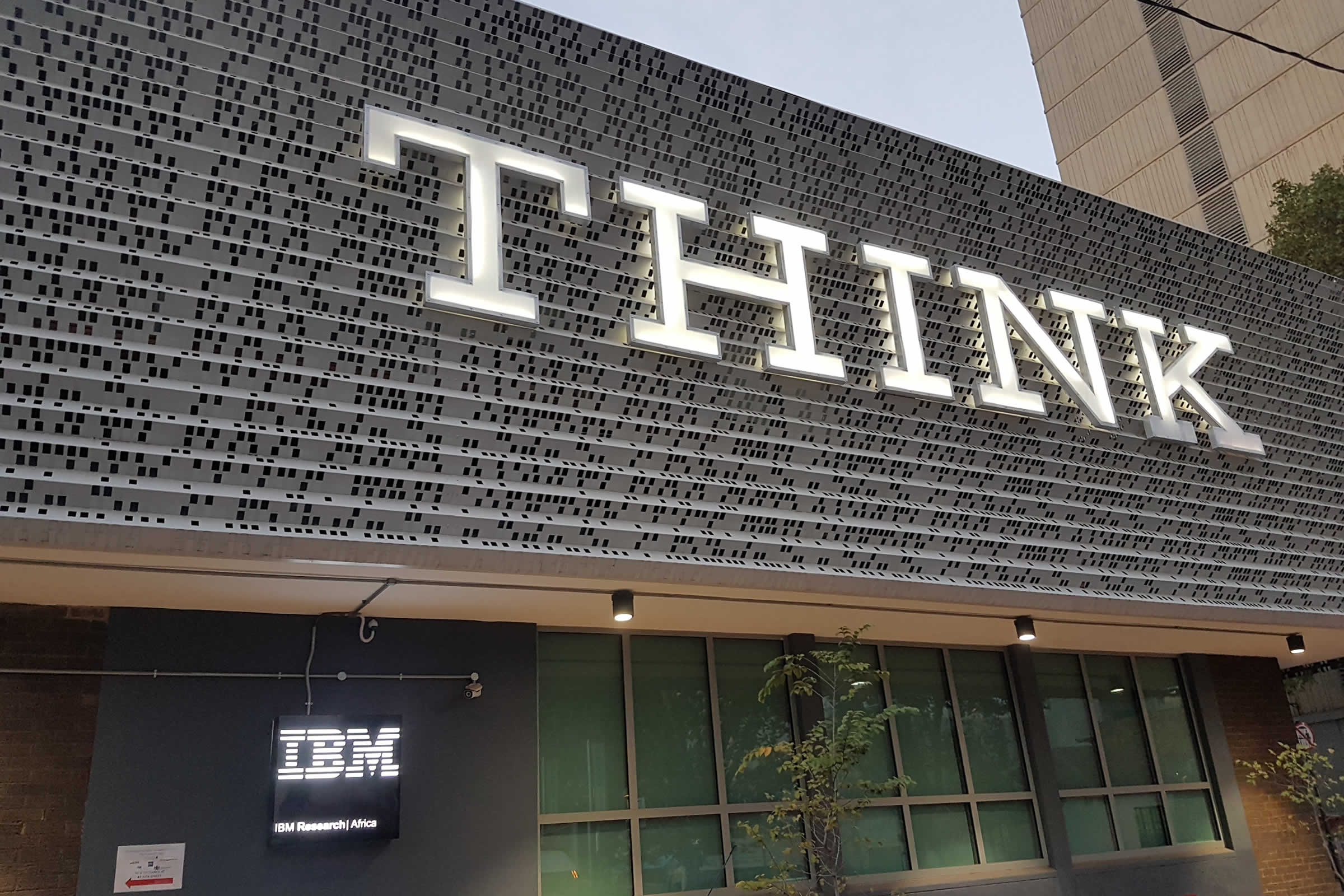 Director Yvette Breytenbach recently travelled to South Africa where a highlight was a personal tour with Professor Barry Dwolatsky of the new Joburg Centre for Software Engineering, at the heart of the Tshimologong Digital Innovation Precinct. This brainchild of Professor Dwolatsky has the vision of driving urban renewal in Braamfontein in addition to its mission to support innovation, skills acquisition and youth entrepreneurial ventures. The premises are housed in a number of recycled buildings acquired by Wits University. A major tenant is IBM Research Lab Africa and a highlight was meeting Watson!
Professor Dwolatsky furnished the following background information about Wits University's Tshimologong Digital Innovation precinct:
In 2014 Wits University decided to establish a major digital technology hub in the Braamfontein inner-city area of Johannesburg. It has been called The Tshimologong Digital Innovation Precinct. "Tshimologong" is the seTswana word for "place of new beginnings". The concept of "Digital Technology Hubs" will be familiar to many living in the USA and Europe. Almost every city in the world now has a district, road or area where people gather to learn, work and innovate in the context of digital hardware, software and content. London has Silicon Roundabout in Shoreditch, Nairobi has its iHub and Boston has Kendall Square. Yet, Johannesburg, Africa's most important economic centre, does not have such an area.
Johannesburg hosts the headquarters of many multinationals operating in Africa, and has become one of the Continent's fastest growing metropolitan areas. Tens of thousands of young, ambitious, innovative and entrepreneurial Africans have found their way to Johannesburg in search of opportunities. Many have settled in Braamfontein - an inner-city area close to Wits University, Nelson Mandela's alma mater, and one of Africa's top research-intensive universities.
After experiencing urban decay in the 1980s and 90s Braamfontein has, over the past 3 years, become the very exciting and fashionable centre of the City's youth culture. Apart from its cosmopolitan population of over 50,000 residents from across Africa, Braamfontein is a magnet for young people from Johannesburg's townships in the South and affluent suburbs in the North.
Wits University believes that Braamfontein is a fantastic candidate to become a hugely successful Digital Technology Precinct. The Precinct is located in a row of five buildings owned by the University in Juta Street, Braamfontein – two blocks away from University's main campus. In creating the Precinct, Wits aims to grow skills, create jobs, encourage the establishment of new businesses and promote the regeneration of Johannesburg's inner-city area. The aim is to benefit not only the University's own students, but to become the focal point for digital innovation for all of Johannesburg's citizens – young and old, employed and unemployed, South African and other Africans.
Professor Barry Dwolatzky is driving this exciting project. He is Head of Software Engineering in the School of Electrical & Information Engineering at Wits. He is also Director of its "Joburg Centre for Software Engineering" (JCSE). In 2013 he was named as co-recipient of South Africa's "IT Personality of the Year", and in 2016 was presented with Wits University's Vice-Chancellor's Award for Academic Citizenship.
Both Government and the private sector have partnered with Wits in the establishment of the Tshimologong Precinct. More than R60m (approximately US$4m) has already been contributed by sponsors to renovate the buildings and establish the necessary infrastructure. A major boost for the initiative was the announcement by IBM Research that it would be establishing its 12th international research laboratory as an integral element of the Precinct. In August 2016 the IBM Lab was officially opened and in September 2016 Phase 1 of the Precinct was launched. A number of events and activities have subsequently taken place with the Precinct as a whole commencing operations in February 2017.
Additional support is now being sought to equip the Precinct and establish a range of focused skills development, internship and enterprise-development programmes.
Photo by Charles Anderson / productONE