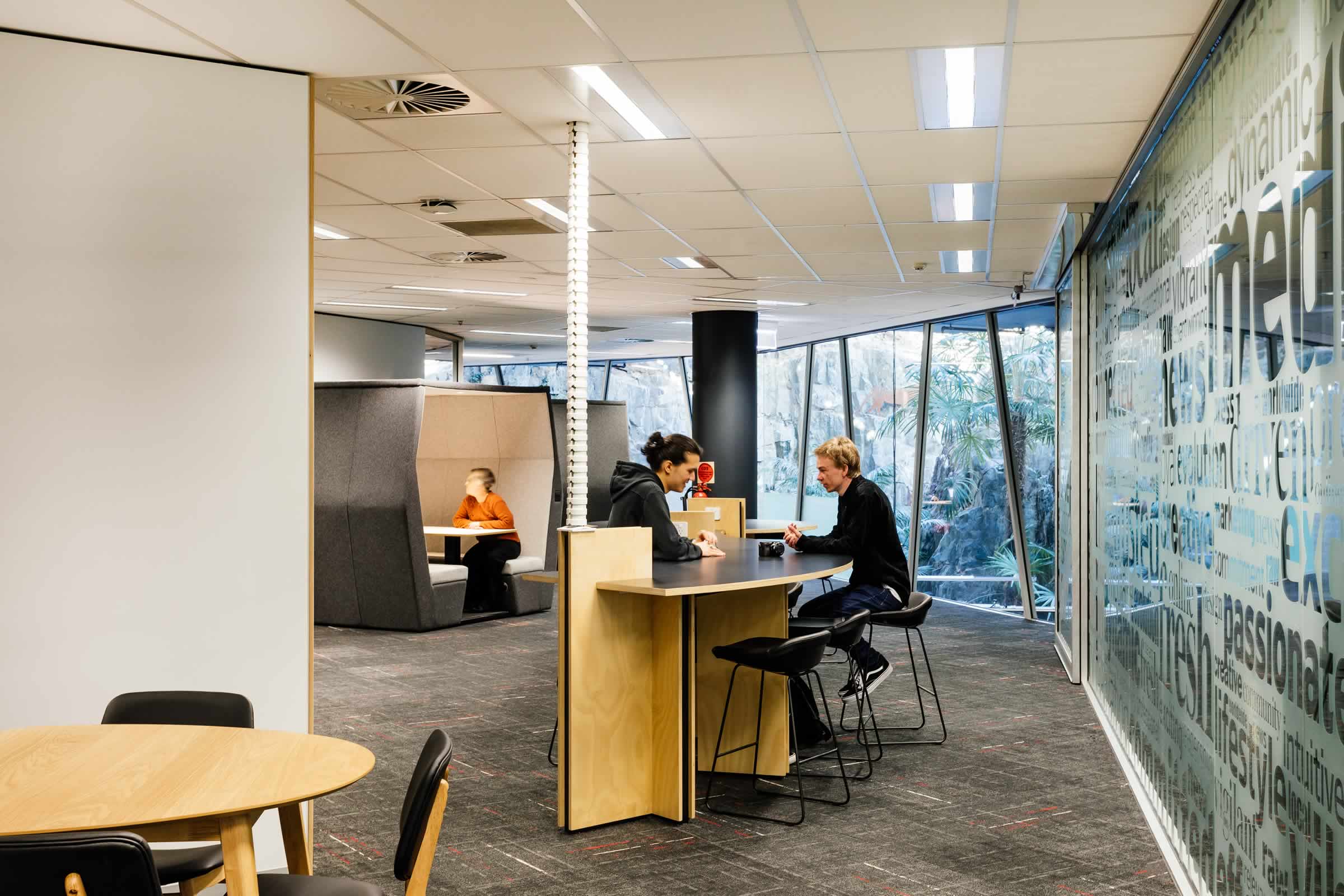 The recently remodelled interior fit-out of learning spaces for University of Tasmania Journalism, Media and Communications by Morrison & Breytenbach Architects, has been up and running since the second semester of 2018.
Unlike conspicuous new University facilities that have taken their place or are currently taking shape in central Hobart, this learning facility is tucked away in a location within lively public Salamanca Square.
The demise of print and the rise of online journalism, media and communication, has seen The Mercury staff numbers and building occupancy footprint undergo significant shrinkage. Available space adjacent to its premises serendipitously presented the University with an opportunity to create a learning environment within a heartbeat of the real life application of the course curricula it delivers.
The interior space presented to us, with a low floor to ceiling height, is redeemed by it overlooking a double volume commercial space and a unique outlook to the jagged stone wall of Salamanca Quarry that encloses it. The inspiration for our design optimises the opportunity the quarry space presents integrated with current pedagogy for learning and social spaces.
The planning utilises the quarry feature to bring in an inspiring borrowed view and natural light for the benefit of communal break out and informal study / social spaces. We achieved this by positioning enclosed learning spaces, post-graduate study nooks and staff offices away from the glazed edges.
Elliptical lecture rooms open up circulation space to create a sense of spaciousness rather than constriction between them.
Carefully located glazed panels create views and connection through learning areas and student activities while leading the eye to the rugged stone and greenery of the quarry beyond.
The result is a contemporary learning facility with a sense of place and identity.
Photo by Adam Gibson Photography